You are interested in
Best refrigerator for small kitchen
right? So let's go together
Refrigerator- side by side Refrigerator -Appliances Kitchen Review Blog look forward to seeing this article right here!

If you are struggling with the layout of your kitchen, the refrigerator is an indispensable device. If your kitchen space is not big enough to hold large items, the best refrigerator for small kitchen is a right choice.

The Refrigerator for small kitchen space should be an appliance that is compact in size and fits where it is intended to be placed. But the best refrigerator must meet more modern features and convenience for users.

While mini fridges may not be an affordable option for a large family, there are plenty of compact fridge options for your family. Join the Fridge blog to learn more about it and these mini fridge models!
What size of refrigerator is suitable for a small kitchen?
How much space does your kitchen have? Yes, this is the question you need to ask before you put a refrigerator on the floor in your kitchen. We know you came here looking for options for a small space. Therefore, understanding the size of refrigerators is essential before you make the decision to own a new fridge.
The refrigerators you'll most frequently find at an appliance store range in width from 30 to 36 inches. It's possible that this size range won't fit in your kitchen if you live in a small apartment or condo. Smaller kitchens typically require narrower refrigerators, ranging from 24 to 28 inches wide.
Most standalone refrigerators have a standard width of around 30 inches. In particular, French door refrigerators and bottom freezer refrigerators begin at about 29.5 inches, whereas top freezer variants begin at 28.3 inches. Additionally, side by side refrigerator models' minimum width, which is 32 34 inches, is wider than this average.
Finally, we can let you know that a 30-inch refrigerator is regarded as an appropriate choice for small to mid-sized kitchens and is capable of holding goods for a family of four comfortably. Therefore, think about getting a 30-inch refrigerator if your family size and kitchen space allow it.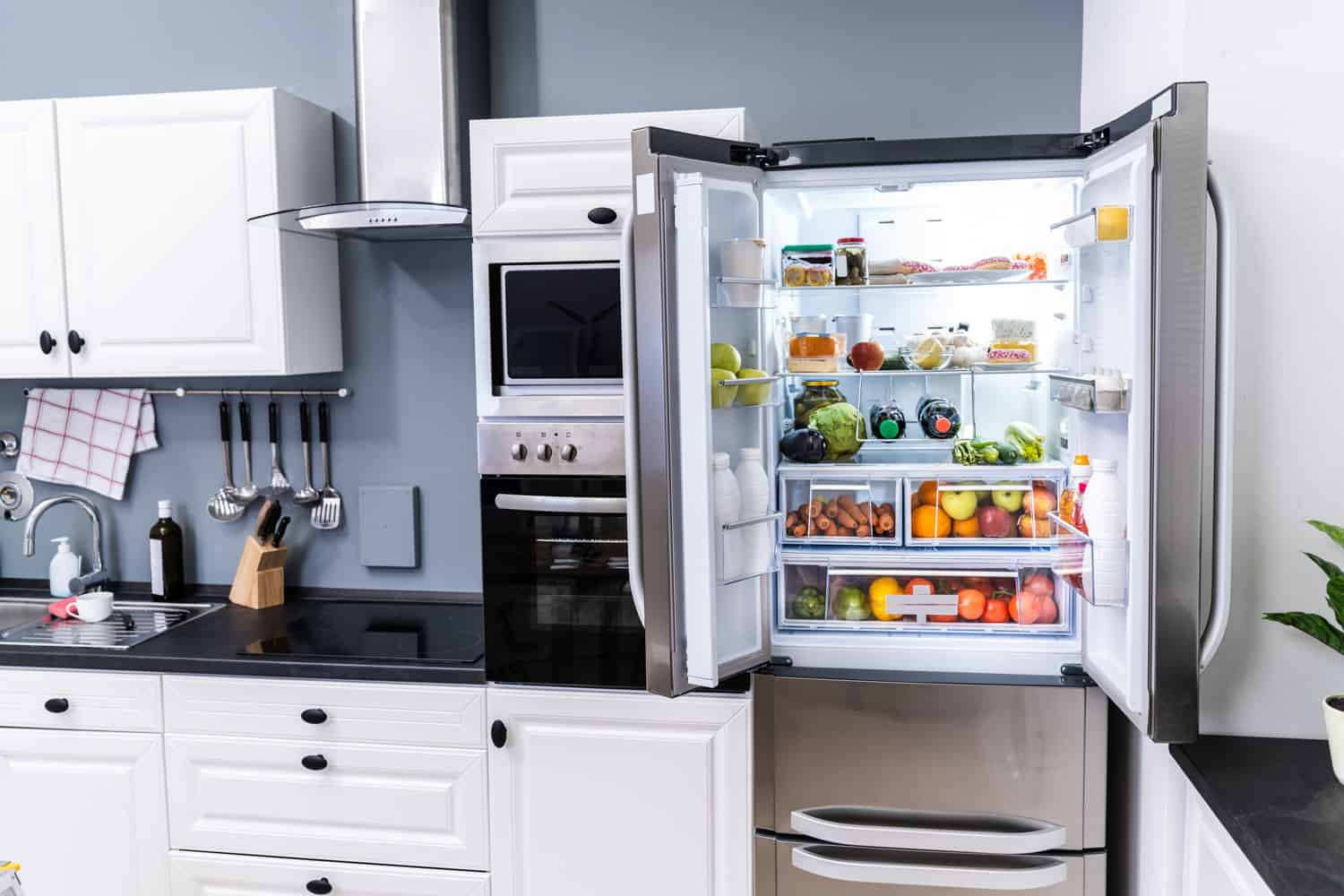 Tips to place the refrigerator to save kitchen space
If you still feel that your storage space is still cramped with a small refrigerator when designing or arranging your kitchen, then this is when you need counter depth refrigerators or built-in fridges. They meet the ventilation standards for the entry space to make the passage in your kitchen easier.
But you should be careful never to buy your equipment before the plan is finalized to avoid the possibility that what you buy may not be suitable for your small spaces. Or, you can come up with a design idea for the refrigerator you want to buy and then give it to the architect for them to have the most accurate calculations.
Choosing a smaller or thinner refrigerator, installing cabinets around the refrigerator, and utilizing space-saving storage techniques are a few alternatives when it comes to putting a refrigerator in your kitchen. You can even rebuild your kitchen to make it bigger if the worst scenario materializes.
1. Build Your Cabinets Around Your Fridge
There are ways to make the most of the space and put a full-sized fridge in your kitchen if you still want one. Installing cabinets above and next to the fridge will free up the room if you're ready to perform a little modest remodeling. You may put stuff you rarely use or that you don't want your pet to get into in these cabinets, which are fantastic.
2. Use Folding Chairs and Tables
In your kitchen, you can also employ fold-away seats and tables. In order to give you more room to cook and move around, these space-saving gadgets may be stored away when not in use. In order to make the most of your kitchen space, you can now purchase a variety of fashionable foldable tables and chairs. They're also fairly affordable.
In order to increase the amount of storage space for hanging objects, hooks can be mounted on the wall and on each side of the cabinet. To keep spices and other pantry essentials organized, use sliding cabinets in corners and next to the refrigerator. Racks are available to buy for additional ingredients and pot storage. Additionally, to add more storage space for little ingredient jars, you can mount floating shelves on the kitchen wall.
4. Use a Kitchen Island Instead of a Table
Installing a kitchen island might be a good idea if your kitchen is extremely small and there isn't a place for a table. Due to the ability to add cupboards and hooks on them, kitchen islands can offer more storage space than tables. Alternatively, you can create a tiny kitchen island that exactly matches your kitchen. To solve your storage problems, you may even build a bar by extending the countertop away from the wall.
5. Renovate your kitchen
When it comes to adding more space to your kitchen, a total makeover is the most expensive and last option. By doing this, you can create additional room in your kitchen by designing it how you want. It's recommended to leave this to specialists as a last choice as you might need to pull down a portion of the current kitchen or even walls to do it.
Which refrigerator is suitable for small kitchens?
If your family has many members, such as 4 people, a top or bottom freezer refrigerator is suitable, or other narrow but multi-door types. However, what do you need when you want a food cooler available in your own room? Or is it for reasons like ease of portability or cost savings? That's because your food storage needs are not high. Rest assured, we also have these compact refrigerators available right below.
1. Bar Fridge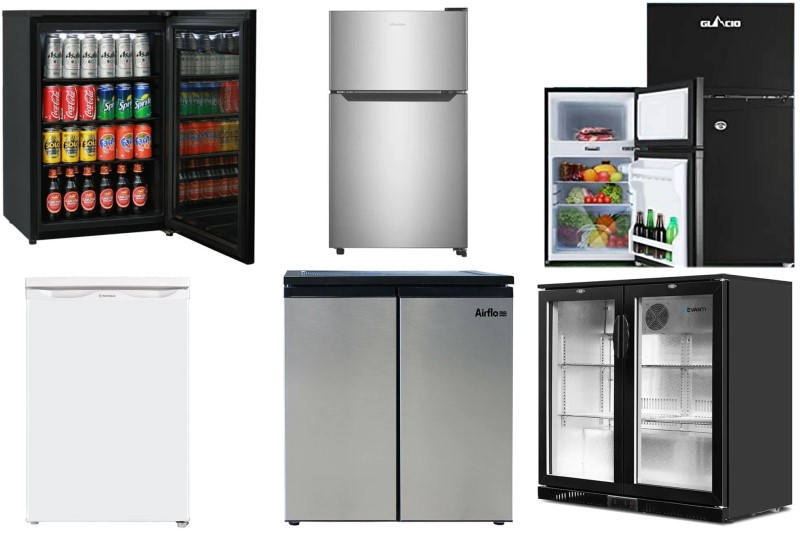 Installing a bar fridge rather than a full-sized refrigerator is one way to save up room in your kitchen. For those who don't cook frequently, such as students or working adults, this is an excellent solution. You may store beer, coffee, ice cream, and other little necessities in the bar fridge while leaving the cooking to the pros.
Wine bottles and other small goods needing refrigeration may fit in bar fridges with ease, making them a fantastic option if you don't cook frequently but still need a place to keep some items cold. Anyone trying to fit a refrigerator into their kitchen should consider this as a wonderful choice. The majority of the time, it lacks a freezer, making it impossible to store or freeze ice cream.
2. Mini-fridge
A small fridge or compact fridge is an excellent additional refrigerator choice that saves space. If you need freezer and fridge capacity but don't have enough room in your kitchen for a full-sized refrigerator, these mini fridges are fantastic solutions.
You may buy compact refrigerators in a range of sizes to suit your needs, and the majority of them come with a freezer drawer. It's simple to choose one that exactly complements your kitchen because they are available in a number of adorable hues.
3. Slim but Tall refrigerator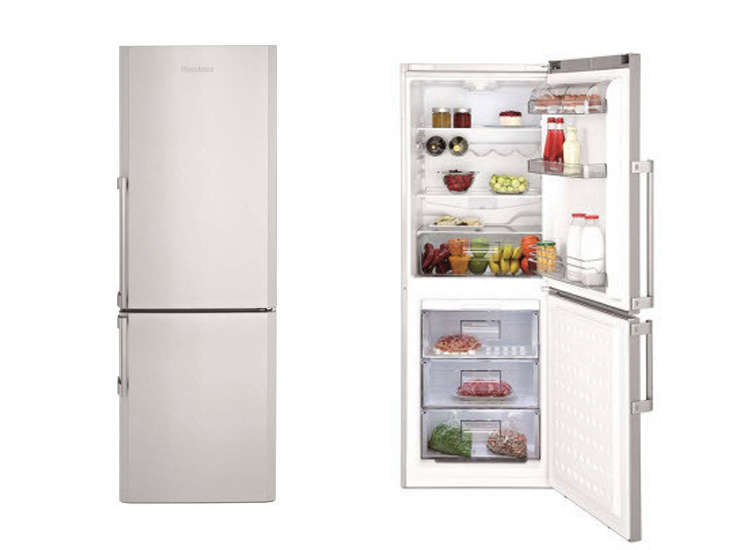 Buying a tall, sleek refrigerator and installing it in your kitchen is a terrific choice. These refrigerators can provide more than 10 cubic feet of space, almost the same as full-size refrigerators with enough storage space for your needs. Due to their ability to fit into tighter places, slim refrigerators are simpler to install in the kitchen.
For people who cook a lot but don't have a lot of space, they make an excellent option because they are almost full-sized refrigerators. A slender and tall refrigerator may be the best option if you need to keep a lot of stuff in the fridge.
4. Top Freezer Refrigerator
You're in luck if you're seeking a dependable and reasonably priced top freezer refrigerator for your small kitchen. There are many fantastic possibilities, and the finest ones integrate excellent performance with energy efficiency and small size.
Finding the top freezer refrigerator that best meets your demands and budget requires taking into account the many features and capabilities of various models. Some of the most important factors to take into account are as follows:
Size: You should select the appropriate top freezer refrigerator for your kitchen since they come in various sizes.
Storage capacity: Make sure the refrigerator you purchase has enough storage space for your needs.
Save energy: To reduce the cost of your utility bills, go for an energy-efficient model.
Price: Top freezer refrigerators come in a variety of price points, so be sure to find an affordable refrigerator that fits your budget.
You can pick the best top freezer refrigerator for your tiny kitchen and enjoy all the advantages it has to offer by keeping these things in mind. There is undoubtedly a top freezer model out there that will satisfy your demands, whether you're searching for simple functionality or complex capability.
5. Bottom Freezer Refrigerator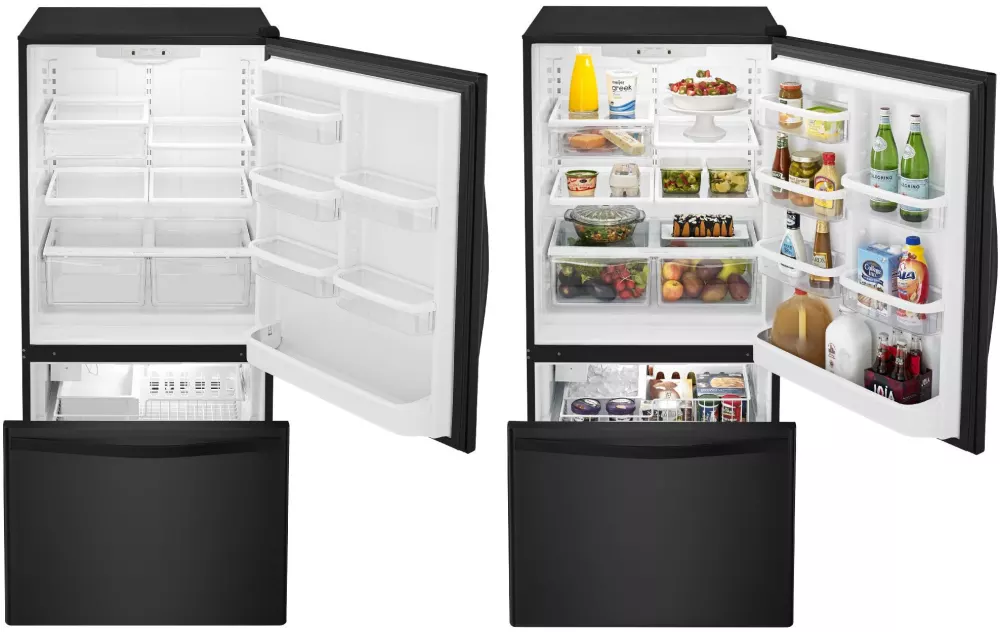 A freezer is located at the bottom of bottom freezer refrigerators. The refrigerator is typically used during the day more frequently than the freezer. The fridge remains in a more accessible location when the freezer is placed at the bottom. The freezer in a bottom-mounted refrigerator will be at chest and eye level. All the most frequently utilized items are simple to locate and obtain thanks to this style.
The organization, storage, and retrieval of frozen items is made simpler by the sliding drawers that are frequently seen in bottom freezer refrigerators. A single-door freezer is far less effective at maximizing interior space than these adjustable shelves. You won't have to dig through unstable placed objects to get to your food thanks to a lift-out basket and sliding drawers.
For optimal convenience, a lot of modern bottom freezer fridges have adjustable temperature settings. The four-door models are an excellent choice because they have a convenient drawer above the freezer where you can keep snacks and beverages. In order to cut down on food waste and keep produce fresher for longer, some models let you set the vegetable compartment at a different temperature than the refrigerator. This bottom freezer refrigerator is energy-efficient with temperature controls.
6. Built-in refrigerator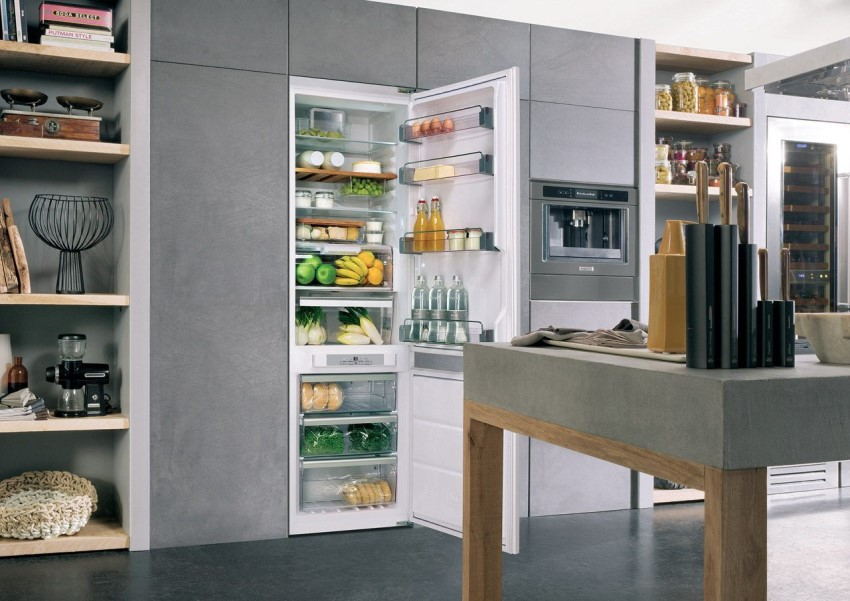 A stylish kitchen needs a built-in refrigerator, which is the ideal design. For a super-sleek aesthetic, they can be set up to install flush. when all appliance doors and cabinet doors are flush with one another, as opposed to a standard installation where only the appliance door panels protrude from the side cabinets. You must choose one installation kind or the other right away because each one calls for a separate installation method and planning manual.
In order to make up for their smaller depth, built-in refrigerators are frequently taller than standard refrigerators. The compressor coils are typically found near the top of the unit in higher heights, allowing for a shallower refrigerator. So make sure you have enough place for it in the space by checking the height that is available.
7. Counter Depth refrigerators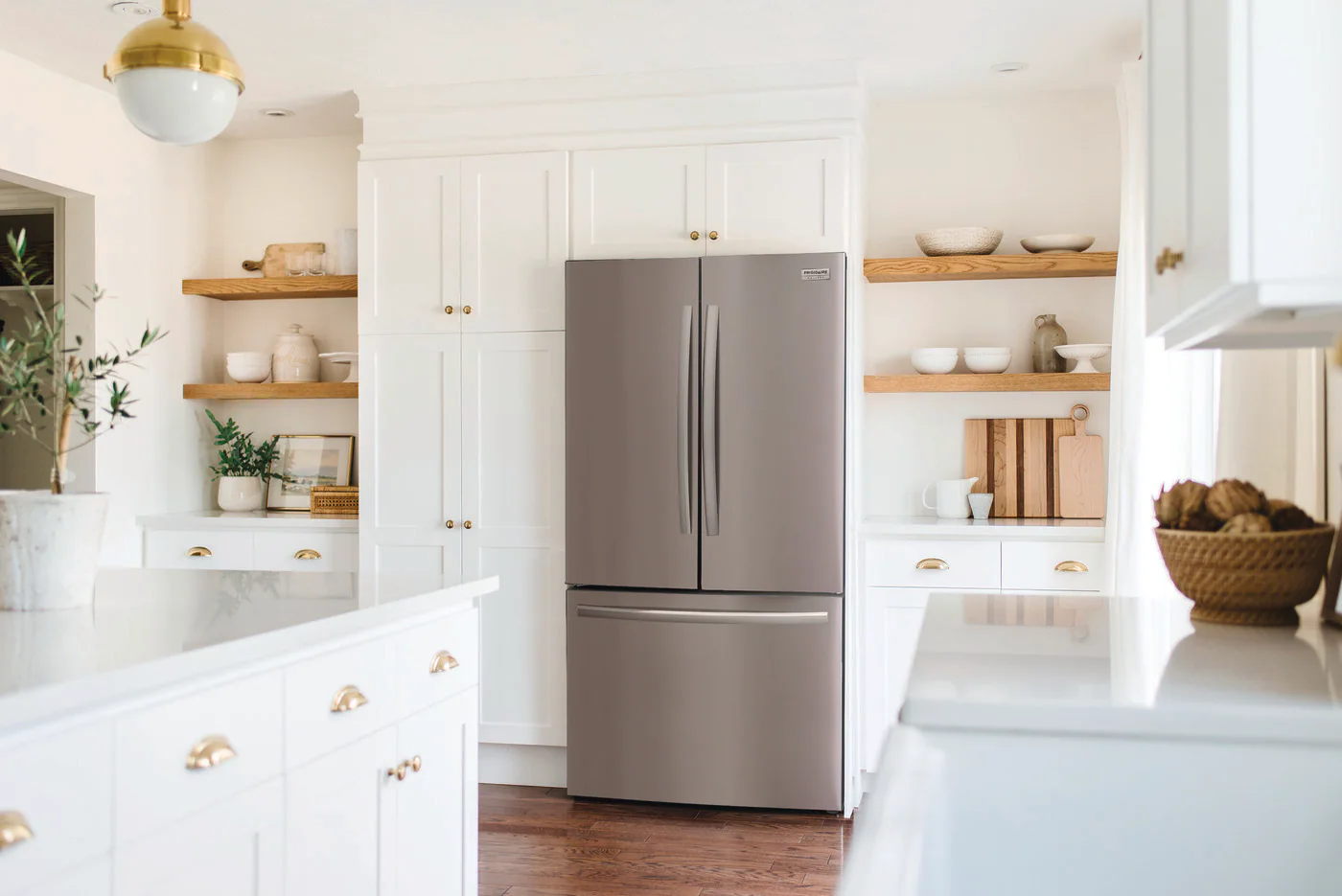 The benefit of choosing counter depth fridge is that you will save floor space and your kitchen will be more organized and beautiful. They can be Bottom or Top freezer models, Side by side, and French door refrigerator. Due to the fact that it is an equipment investment for the long term, the counter depth design is a very popular choice.
In order to make up for the shorter shelves and reduced capacity, counter depth fridges are frequently higher than broader refrigerators. You might need to take this into account when installing a new refrigerator. Also keep in mind that the handles and the door of the refrigerator with the opposite depth will also protrude somewhat beyond the edge of the counter, so the measurements for the depth may not account for these features.
Examples of the best refrigerators for small kitchens
1. Miele MasterCool™ 16.0 Cu. Ft. Bottom Freezer Refrigerator
$10,299.00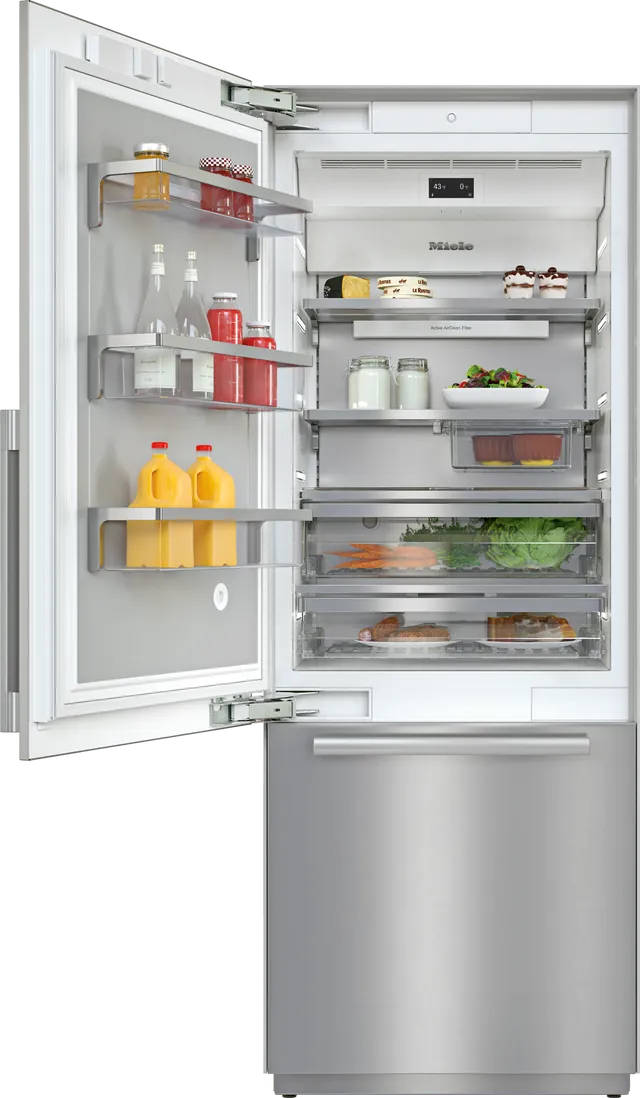 This 30-inch model of the Miele refrigerator is no exception to the brand's high standards of excellence. Every element, including the stainless steel trim and inside, is designed for optimum durability and elegance from the interior to the exterior. Additionally, using this Miele refrigerator will be simple and fun.
In terms of compact models, this Miele 30″ bottom freezer refrigerator exceeds expectations because it is loaded with high-tech variations of the traditional characteristics we value. This refrigerator's Push2open door mechanism does away with the need for a handle, enabling a fully flat installation. It is designed to fit seamlessly into your kitchen cabinets.
The Miele MasterCool refrigerator has cooling features as well as WiFi connectivity, which enables you to control and monitor your appliance from a distance. It includes spill protection in the shelf glass to capture spilled liquids and works flawlessly with built-in kitchens with doors that push open.
The MasterFresh system, which extends the freshness of food by up to three times, is one of the refrigerator's functional features. With the Active AirClean filter, odors are efficiently avoided, and the NoFrost system does not require frequent defrosting or cleaning.
2. GE GLE12HSPSS 11.9 cu. ft. Built-In Bottom Freezer Refrigerator
$1,949.00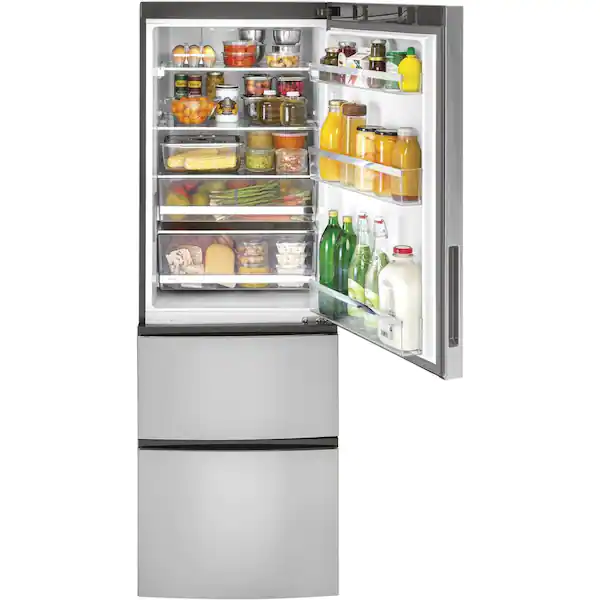 Our best option is this GE narrow refrigerator because it has temperature-controlled drawers, interior digital controls, and a chic look. Despite being a little more expensive, this type imitates a built-in deep freezer without the added cost of custom cabinets.
This 23.5-inch wide refrigerator can fit in any little kitchen design thanks to internal hinges and reversible doors. Three-door shelves, three main shelves, and two drawers all contribute to the main compartment's maximum storage capacity. Any size container can be stored with ease on any shelf by adjusting it to the desired height.
A "QuickSpace Shelf" that slides in to store any extra-tall objects is also part of the interior storage system. You can also store up to five bottles of wine in your main fridge thanks to the retractable wine bottle holder that is also included. The additional space is excellent for keeping smaller foods.
Although there isn't an ice maker built into this refrigerator, one can be added when buying it. Because it has Energy Star certification, this model uses less energy while providing the same cooling capability as normal versions. This compact refrigerator also complies with ADA regulations, has controls that are simple to use, and is accessible to those with disabilities.
3. Frigidaire® 18.3 Cu. Ft. Stainless Steel Top Freezer Refrigerator
$1,099.00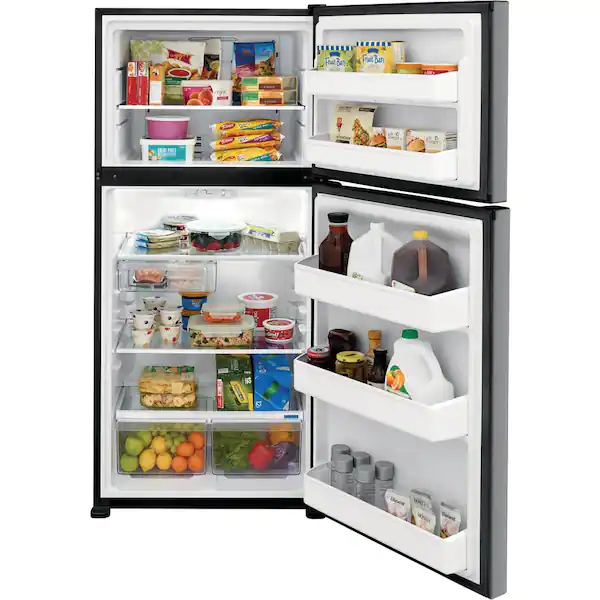 Featuring Frigidaire's EvenTemp Cooling System, which works to maintain a constant temperature in your refrigerator by reducing freezing and undesirable hot spots. Each refrigerator goes through a 42-point quality inspection to guarantee dependable functioning for many years.
The auto-closing doors of our Top Freezer help ensure that your door is never left open by automatically closing once it has been opened 5 inches or less. This helps you avoid damaged food and mushy ice cream. Roller-assisted moisture-controlled food drawers keep produce fresher for a longer period of time, resulting in reduced waste and lower costs.
Thanks to its optional small ice maker, you can have the flexibility of installing extra ice makers later without losing critical refrigerator space. With interior storage options that are adaptable and built for busy families, everything will have a home. These consist of wide door compartments, half-width snack drawers, and full-width glass shelves in freezers and refrigerators.
4. Crosley® 17.5 Cu. Ft. Black Top Freezer Refrigerator
$849.00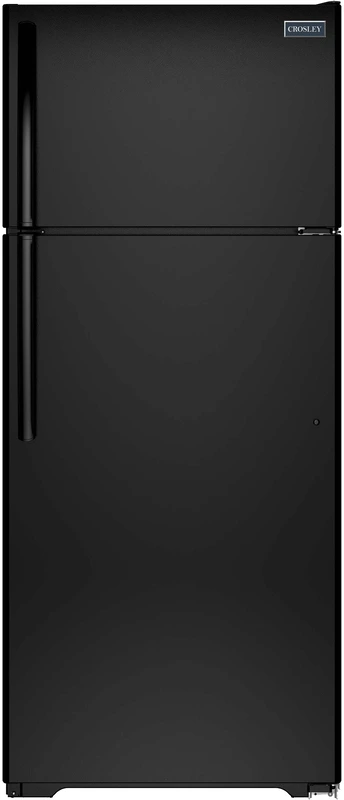 Any home would benefit from the Crossley® Black Top Freezer's dependability and utility. Large containers can be stored in the door in the perfect location, freeing up important shelf space. The freezer floor's smooth construction makes it simple to clean up in a hurry.
shelves with box doors, freezer shelves with adjustable wires, humidified drawers, and drawers with gallon doors. You may also effortlessly and quickly access your preferred dishes thanks to the mobile snack drawer. Additionally, it has front temperature controls, spill-proof freezer floors, LED lights, and other features that make it simple to store and retrieve food.
Both the freezer section and the fresh food area are controlled by simple controls. Additionally, the optional ice maker makes it simple to get snacks and drinks whenever you need them to be cool. The refrigerator and freezer doors on this black top freezer refrigerator can be easily changed to open from the left or the right.
What to Look for in a Narrow Refrigerator
1. Type
A top freezer, a bottom freezer, or no freezer at all may be found in small refrigerators. To choose the best one for you, consider your needs and the location of the installation when purchasing.
The top freezer style can be less expensive, has a useful door holder, and a timeless appearance that will go with many different homes. A lower freezer style, on the other hand, can look more upscale and is frequently simpler to organize, but it will cost more money.
2. Consider Size
There are many different sizes and capacities available for most refrigerator setups. Prior to shopping, always measure the space where you intend to place your refrigerator. Remember to measure the width and height of any doors, corridors, stairs, etc. that guests will need to pass through in order to access the kitchen. Give the refrigerator doors space to open, and provide 1 inch of space on the sides and back to allow for proper ventilation.
3. Organization options
How much space you have in your small refrigerator depends on how many shelves, drawers, and door compartments there are. Think about your organizing options and whether you can modify them if your needs alter.
Two or three shelves and drawers will often be found in the fresh food section of a typical narrow refrigerator. There are high-end models available that give you excellent wine bottle and can storage as well, doing away with the need for a separate appliance.
4. Bottle and can storage
You can keep your drinks in a convenient location by storing bottles and cans in your confined fridge. It not only does away with the requirement for a separate apparatus but also guarantees that your Coke or wine doesn't shake and move around a lot.
You can count on this function to keep items organized and simple to access, especially in small refrigerators where space is at a premium. For wine enthusiasts or people who like entertainment, it is especially ideal.
5. Reversible door
Your compact refrigerator may be installed wherever you like thanks to the reversing doors. In contrast to the left or right opening, this feature has airtight sealing on both of the door's outer edges for more utility and versatility.
You want to place your new appliance in a confined space in your kitchen or garage where other equipment are also present. Furthermore, it has a recessed handle for those times when this feature would come in handy. Just be mindful that the seals may deteriorate over time.
6. Garage-ready design
If the little refrigerator is made for a garage, it can endure the fluctuating temperature of the partially outdoor area. The system will function effectively and keep the internal temperature you have specified, regardless of how hot or cold the garage becomes.
This function, which enables you to place a tiny refrigerator anywhere, is incredibly useful and a need for any household wanting to use their new refrigerator for additional storage.
If you want to buy a new refrigerator, you have a lot of possibilities. The most crucial step is deciding the competencies you require. Next, decide which refrigerator model or kind best suits your needs in terms of both price and style. For a more elegant appearance, think of built-in or extensive variants of any of these styles. Finally, decide which qualities are most important to you. Over time, everything becomes easier, but most importantly, you need to have enough money.
Final Words
Today, most households have a refrigerator in their kitchen to store fresh foods and frozen foods. Fridge features are further promoted and integrated into existing and future refrigerator models. However, the most advanced and modern features are often found in larger and more expensive refrigerators. Such as french door refrigerators, side by side refrigerators, etc.
In smaller flats and families, narrow refrigerators maximize food storage without taking up too little room. The top narrow refrigerators have been ranked according to their capacity, integrated features, and energy efficiency. This blog is intended to inform you about narrow-sized refrigerators and speed up your buying.
You maybe also like: The Best Samsung Bespoke 4-Door French Door Refrigerator – RF29BB8600QLAA
Conclusion: So above is the Best refrigerator for small kitchen article. Hopefully with this article you can help you in life, always follow and read our good articles on the website: Refrigerator- side by side Refrigerator -Appliances Kitchen Review Blog