You are interested in
Types of Wine Refrigerators Based On 3 Basic Factors
right? So let's go together
Refrigerator- side by side Refrigerator -Appliances Kitchen Review Blog look forward to seeing this article right here!

Wines need to be stored at the right space and temperature to preserve their original aromas and flavors. If you are a wine lover or like to collect precious and delicious bottles, consider buying a wine fridge. It is important for you to know about kinds of wine fridges/ coolers. Welcome to the Fridge blog, we'll share them with you!
What do you know about wine refrigerator/ cooler?
The ideal temperature for your wine is maintained by a wine cooler or wine fridge. Unlike a typical food and beverage refrigerator, which maintains a temperature of 40 degrees F (or 4 degrees C), this type of refrigerator maintains a temperature of 46 degrees F (or 7.2 degrees C). They enable you to retain your favorite wine in an environment free from noise and outside heat while maintaining a constant temperature.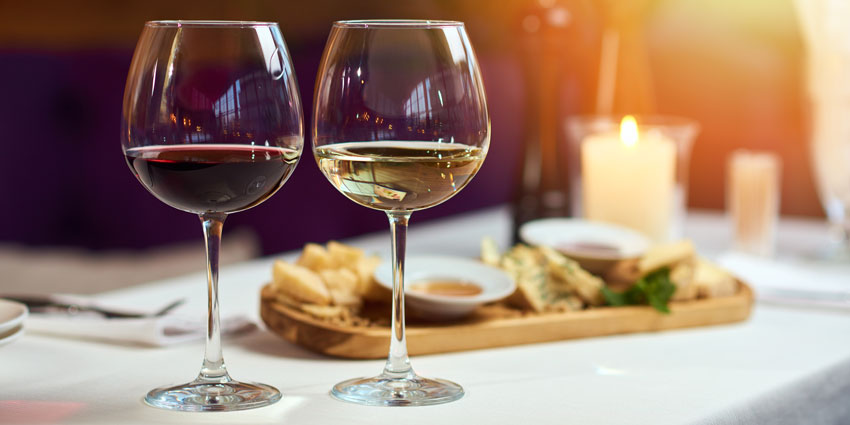 As you probably already know, different wines need to be stored and consumed at different temperatures. There are two popular and most popular types of wine: white wine and red wine.
White wine should be served at a temperature of 45 to 50 degrees F. (7.2-10 degrees C)
Red wine should be served between 50 and 65 degrees Fahrenheit (10-18.3 degrees C)
This proves that if you plan to have multiple wine styles, a dual zone refrigerator will work best. You can store both red and white wines at the right temperature without worry.
To maximize storage space for each portion of the wine cooler, a high-quality wine cooler will contain an independent humidifier, thermometer, and charcoal filter. The ideal approach to store wine is in distinct, independently regulated compartments that keep the wine in a constant environment.
1. Types of wine

coolers based on temperature zones
Varieties of wine coolers based on temperature zones come in two forms: Single zone wine coolers have one temperature zone, and Dual zone wine coolers have two distinct zones.
Single zone wine coolers
Single zone wine coolers keep your wine at exact, consistent temperatures for short-term preservation. In order to preserve all of your favorite Riesling, Sauvignon Blanc, and Pinot Blanc wines in a single refrigerator.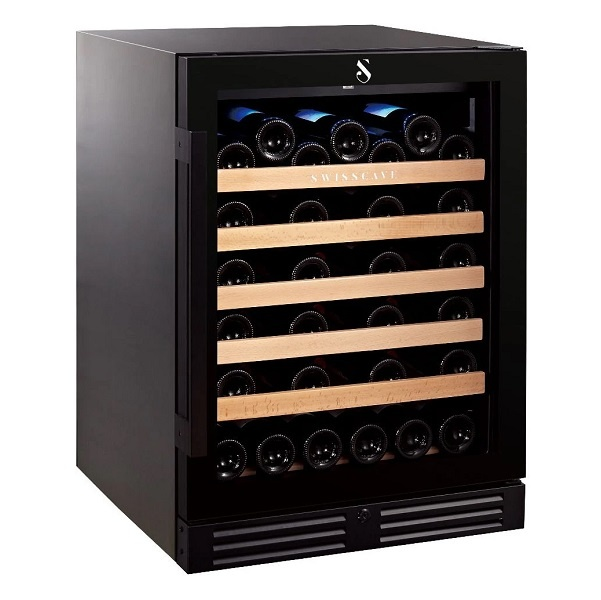 Dual zone wine coolers
Wine coolers with two temperature ranges are the best choice for people who collect a variety of wines that require varying temperatures for storage. The same stainless steel wine fridge, as previously noted, is the ideal place to safely store both your red and white wines.
A dual zone wine cooler typically has a lower area with a cooler temperature range for white wines and an upper area with a higher temperature range for red wines.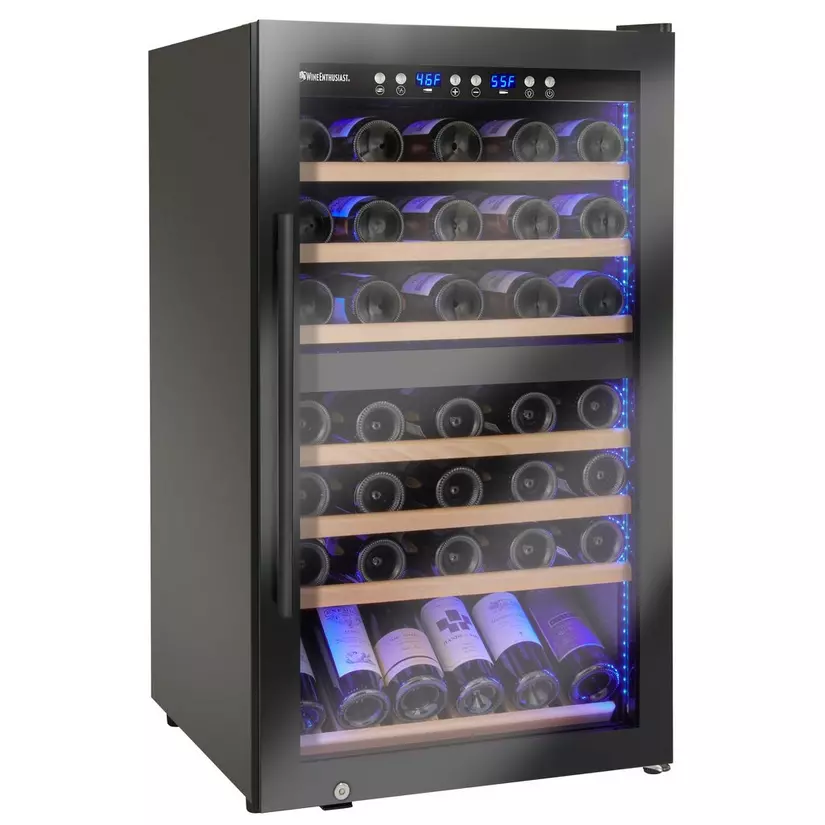 Multi zone wine coolers
The benefit of multi zone wine fridge is that you can store different wines simultaneously to create the perfect wine collection in your style. This unit is much larger than other coolers because of its capacity of up to 100 bottles or more. It also has 3 or more temperature zones.
With the use of multi-valve technology and some multi zone wine coolers, you can have up to six separate temperature zones. Circulating fans are used in this kind of wine refrigerator to ensure equal chilling by distributing cool air. It's important to remember that there shouldn't be more than 8°C of temperature variation between each compartment. This is the advice of professionals.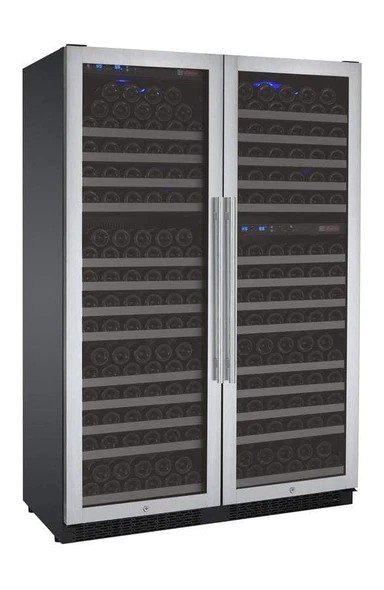 2. Types of wine coolers based on cooling technology
Thermoelectric wine cooler
Thermoelectric wine cooler doesn't use a compressor so it's great with no vibration feature. The majority of this gadget use electrolysis to cool themselves instead of any refrigerant. This also makes it relatively quiet, which is great for those who don't like noise.
A heat pump, which is how a thermoelectric wine chiller operates, effectively moves heat from one side of the device to the other. When used as a cooler, an electric current travels through the device creating a temperature difference across the alcohol cooler. Both cooling and heating can be accomplished using this.
Compressor wine cooler
Since it has a much wider internal operating temperature to cater for all kinds of wine, the compressor wine cooler is said to be more efficient than the thermoelectric wine cooler. Usually this temperature will be 5-22 °C. It can reach such great temperatures because it has a compressor, fan and evaporator system.
Meanwhile, the internal temperature of thermoelectric wine coolers usually cannot fall below 8-10°C, and their temperature regulation is often not very efficient. What is clear is that this cooler is greatly affected by the ambient temperature – which fluctuates wildly.
This is how a compressor wine cooler operates: the refrigerant absorbs heat from the evaporator coils, transforms back into vapor, and then returns to the compressor to begin the process once more. One or two fans are placed in each compartment of the wine chiller to distribute cooler air as heat is absorbed, maintaining a uniform temperature throughout the wine cooler.
There are many users who are concerned about wine cooler vibrations – not good for wine as it disturbs any deposits that are formed. However, those small vibrations were no longer their trouble. Compressors that don't vibrate and high-quality wine chillers are now available. These products are frequently made with numerous minor kits to dampen any potential vibrations.
3. Types of wine coolers based on location and design
Freestanding wine cooler
A freestanding wine cooler is a self-contained installation that occasionally has a stainless steel door that may be turned around. It can be put anyplace in your house, such as a safe corner or a cellar. A stand-alone cooler has the benefit of being portable, so you can move it when you decide to redesign your home or clear out your cellar.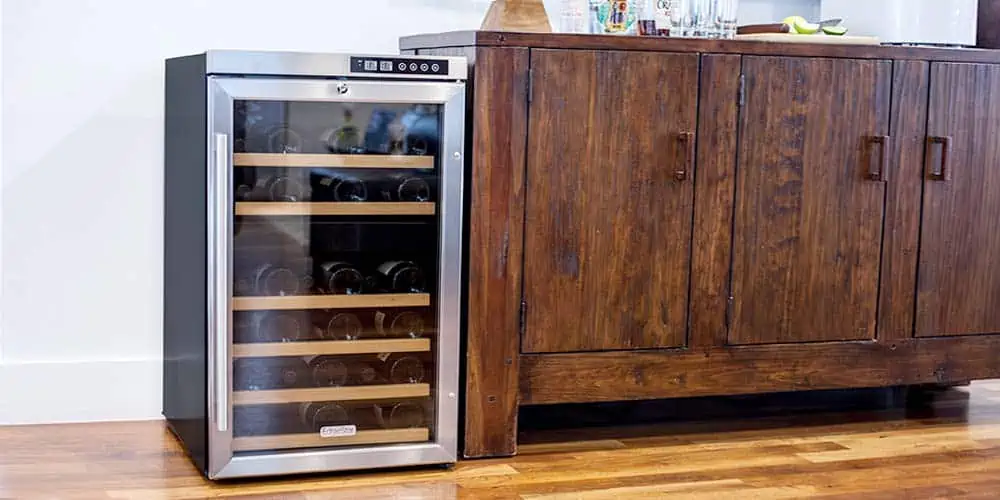 Countertop wine cooler
Countertop wine coolers are the ideal option if you don't have much space for wine storage. They can hold up to 25 bottles of wine and are small. You may set it down on the kitchen counter or the sideboard in the dining room thanks to its practical modest size. For optimum ventilation, this kind of wine refrigerator frequently requires more room. Therefore, you must place it in a handy location.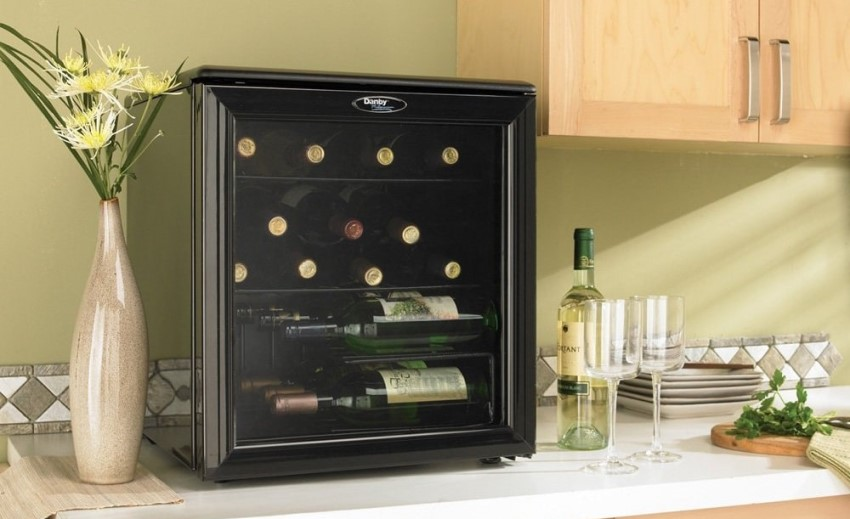 Built-in or under-counter wine fridge
Wine refrigerators that are built-in or under-counter might complement the decor of your kitchen or home bar. Due to the fact that they have to be made to order, these are more expensive than standalone or tabletop coolers. However, this also helps you own a classy device in your own style.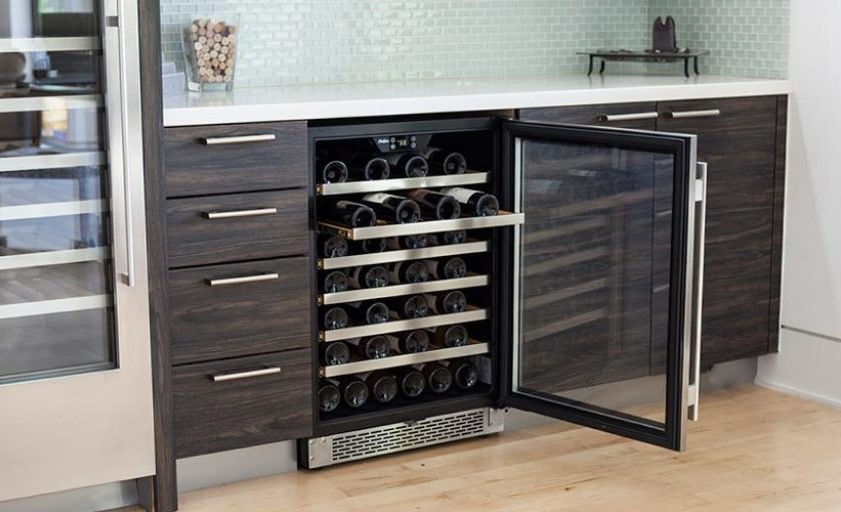 What should you consider before buying a wine cooler?
Is your drinking need big or small? What wines are you planning to store and how much? Regardless of the size of the bottles, the arrangement of the bottles in the wine fridge or refrigerator should allow you to keep the wine with enough space between them. This is crucial to maintain the refrigerator's temperature and will stop bottles from crashing into one another.
Available space for a wine fridge: The wine fridge can hold up to 100 bottles or more, as opposed to the fridge's maximum capacity of 36 bottles. Select the ideal one based on the volume of your wine collection and the amount of room in your house or basement that is available.
Temperature control: The ability to regulate temperature is a wine cooler's key feature. On the control panel, look for refrigerators or freezers with digital controls. They must be changeable, comprehensible, and accessible. Additionally, choose a single temperature zone or dual temperature zone wine refrigerator based on your preferences.
Cooling technology: Use a refrigerator or a more compact wine refrigerator with thermoelectric cooling technology to store a smaller wine collection. Choose a wine refrigerator with compressor cooling if you have a larger wine collection.
Appropriate doors: The wine chiller or wine refrigerator's doors must be sealed to prevent unwelcome airflow when they are shut. Some have a reversing door so you may position them wherever they best fit your house. The material of the doors is something else to consider. Regular glass doors leave your wine collection vulnerable to damaging UV radiation from the outside.
The appearance of the wine cooler you desire: There are many kinds of wine refrigerators or wine coolers available today and they have been mentioned above. All of them have their own advantages and features to meet a variety of user needs. You can choose the style you want or you can also choose according to your drinking needs.
Rounding it up
The best type of wine fridge can be determined by many factors. In addition to the things you need to note above, you also need to pay attention to the brand and price of the wine coolers you like. As is possible for many people, the price can be an important factor in deciding to buy a large item.
Moreover, the brand speaks for the quality of the product, you can rest assured if you buy from a reputable and famous supplier. Either way, buying a wine fridge is a great option to complement your kitchen, bar, or cellar. Make the right decision that is right for you. We thank you for your visit!
You may also like: Different Types of Mini Fridges by Size and Installation Type

Conclusion: So above is the Types of Wine Refrigerators Based On 3 Basic Factors article. Hopefully with this article you can help you in life, always follow and read our good articles on the website: Refrigerator- side by side Refrigerator -Appliances Kitchen Review Blog